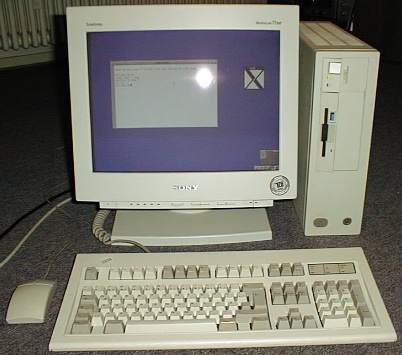 Click here or click onto the photo for a full size version of this picture.

The 56SX can be thought of as the successor of the 55SX. Though it doesn't mark a great improvement in processor performance, the 'mechanical' and architectural improvements are vast: the case has been redesigned completely, it's completely made of metal and the 'cover' is really a complete second outer frame. If you want to put a big monitor on this case, no problem!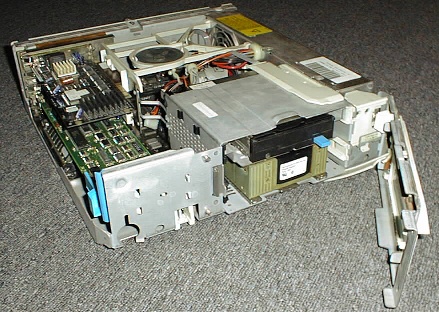 Click here or click onto the photo for a full size version of this picture.
Similar to the 55SX, the 56SX has two drive bays, but in contrast to the 55SX, there is room for a 5,25 inch drive. The planar has one SIMM slot more and each slot can take memory modules of up to 8 Mbytes. As a result, you can plub more memory into the machine than the processor can address. The setup program will give a warning in this situation and reduce the usable memory accordingly
I'm not sure whether the VGA really is an improvement. The palette chip is rated at 50MHz pixel clock instead of 35MHz, and there are sockets to increase the video memory by another 256K. The reference diskette's test program calls it an 'Enhanced VGA' and shows a 132-column text mode not known from a standard VGA, but I wasn't able to find out more up to now.
While the parallel/serial ports are standard, a highlight is the on-board SCSI controller. IBM regarded IDE drives as 'not serious stuff' at that time and equipped all following PS/2 models with SCSI (an exception are some late 76/77 models which had a single IDE channel on-board).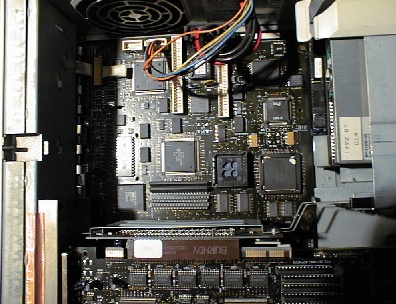 Click here or click onto the photo for a full size version of this picture.
A look onto the main board shows that IBM switched to more common connector types, however the floppy connector is still a creative one: it is a 44-pin connector (try to get a replacement in an electronics store!) and it also carries the floppies' power supply. Getting a standard floppy to work on this machine therefore would still be an adventure, but it's not that bad anymore since the Sony or Mitsubishi drives are of much better quality than the first-generation ALPS drives in the models 50/60/70/80. IBM had finally understood that a floppy drive should have a closing lid at the front blocking dust.
While the internal SCSI connector is standard, the external is again IBM proprietary: It's a 60-pin mini Centronics plug IBM had already used on their RS/6000s and MCA SCSI cards. When you intend to buy a cable for this connector, sit down before they tell you the price ;-)
Though the XGA-2 graphics accelerator is a 32-bit card, it also works in machines with 16-bit slots like the 56 SX; the 32-bit extension of the Microchannel bus connector is left open...