My Telefunken Collection
---
MA 2
Device Type
Integrated Amplifier
Start of Sale
1981
Original Price
DEM 368,-
General Description
The MA 2 is the amplifier of Telefunken's 1981 entry component system M 2. It is a splendid example for the 'keep it basic' philosophy of this system. The only feature that could be counted as 'extra' is the loudness switch: even the auxiliary input that was otherwise considered indispensable is missing. Fortunately, they didn't leave out the phono input and preamplifier, so one could at least attach a record player without additional (switch) boxes...
Features
Loudness switch, 2x20 W RMS
Connectors
Phono Input, Tuner Input, Tape Input, Speaker Output (all DIN)
Technical Data
not available at the moment, have no docs
Common Failures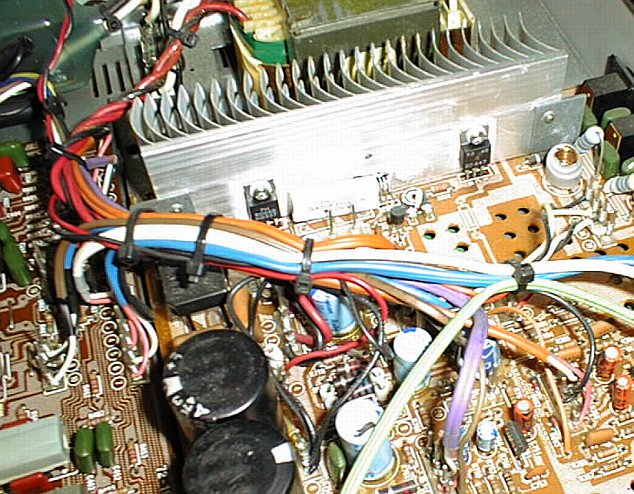 Of course, the most sensitive section of every amplifier is the power section. The MA 2 makes no exception of that, and the lack of protective circuits makes things even more critical. Fortunately, the one unit I got only needed the power transistors replaced. Selecting replacement types is not difficult, since 20 watts per channel is a relatively small output power. Just beware that the transistors are darlington types. Using normal transistors will make the amp seem to work in the first moment, but the higher base bias will result in a hefty quiescent current - the repair won't last for long ;-)
In this case, I have used BD647/648 transistors as replacments, cheap and easily obtainable types.
Spare Part Numbers
(taken from Telefunken's 1981-1991 Service Handbook)
| Position | Order No. | Designation |
| --- | --- | --- |
| | | ICs, Transistors, Diodes |
| | 339 555 251 | transistor 2 SB 751 |
| | 339 555 129 | transistor 2 SA 817 A |
| | 339 556 412 | transistor 2 SC 1583 |
| | 339 556 299 | transistor 2 SC 1815 GR |
| | 339 556 466 | transistor 2 SD 837 P,Q |
| | 309 001 221 | transistor RCA 17520 |
Available Documents
---

Back to List
---
©2002 Alfred Arnold, alfred@ccac.rwth-aachen.de