My Telefunken Collection
---
RS100
Device Type
Analog Turntable
Start of Sale
1981
General Description
The RS100 was the simplest record player you could get in the 1981 series; compared to the other more advanced players, you didn't get a fully automatic chassis, no direct drive, and a turntable much lighter than the 1..2 kilogram tables of the RS200 or RS30. However, the RS100 is still a respectable player for its time, and the standard pickup fixing allows the prefitted (and not too bad!) Audio Technica AT72 to be exchanged against almost any pickup you want. So one could call this player an 'economic' choice.
The RS100 was also available as RS120CX with a built-in CX decoder.
Features
Semi Automatic, belt-driven, automatic shutoff, pitch control.
Connectors
DIN (cable fixed to player)
Technical Data
(taken from a product brochure)
| | |
| --- | --- |
| Variation of Speed: | 0.08% |
| S/N Ratio | 42dB |
| S/N Ratio (filtered) | 62dB |
| Tangential Error Angle | <= 0.18 deg/cm |
Common Failures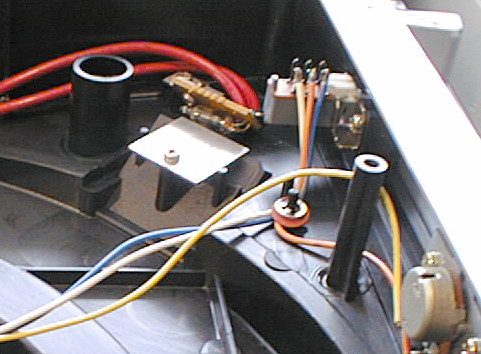 The RS100's stoboscopic lamp is built with a simple neon lamp that flickers with the rhythm of the mains frequency. Such lamps have a tendency to darken out ofer time, which comes from material disintegrating from the electrodes and building thin layers on the glass's inner side. Moreover, this loss of 'active material' can lead to unreliable operation of the lamp. You won't get around replacing the lamp...
Of cdourse, the belt is another potential troublemaker, but I'm still waiting to see a belt fail...
Spare Part Numbers
(taken from Telefunken's 1981-1991 Service Handbook)
Other Electical Parts
Stroboscopic Lamp
339 561 106
Other Mechanical Parts
Cover
339 111 207
Fixing Screw
339 921 106
Documents
Service Information
319 461 305
Addons/Miscellaneous
Pickup Carrier ATN72K
559 338 008
System TM500
559 318 016
Available Documents
currently none
---

Back to List
---
©2001 Alfred Arnold, alfred@ccac.rwth-aachen.de