My Telefunken Collection
---
RT100
Device Type
Analog Tuner
Start of Sale
1981
General Description
This is the simplest tuner from the silver series, if you don't count the midi-stype MT2. Nothing fancy, but it works, and it can nowadays be had for very few money...
Features
UKW/MW, variable capacitor tuning, LED signal strength indicator, exact tuning indicator, mono switch, AFC (switchable), muting (switchable)
Connectors
AF Output (DIN), Antenna (75 Ohms asymmetric 240 Ohms symmetric AM/FM)
Technical Data
(taken from the user's manual)
FM Receiver
Wave Band:
87.5 - 108 MHz
Circuits:
12, 4 adjustable
Sensitivity:
<0.9 µV at 75 Ohms
(26 dB/40 kHz deviation)
Limit Range:
<1.2 µV for -3 dB at 75 Ohms
Intermediate Frequency:
10.7 MHz
IF Bandwidth:
150 kHz
Selection:
60 dB (2 signal method)
Mirror Selection:
>75 dB
Capture Ration:
2 dB
Phase Suppression:
>60 dB
Carrier Signal Suppr.:
>60 dB
Frequency Response:
22 Hz - 15.0 kHz
Distortion Factor:
<0.5 % stereo
<0.3 % mono
Cross Talk Dampening:
40 dB
Voltage Ratio:
>64 dB stereo
>66 dB mono
S/N Ratio:
>62 dB stereo
>66 dB mono
Range of Strength Display:
1 µV - 2 mV
Stereo Threshold:
~5 µV at 75 Ohms
AM Receiver
Sensitivity:
10 µV at 600 kHz
(at 1 kHz 30% Modulation)
Wave Band:
MW 520 - 1610 kHz
Circuits:
5, 2 adjustable
Intermediate Frequency:
460 kHz
IF Bandwidth:
4.2 kHz
Voltage Ratio:
53 dB at U = 10 mV,
1 kHz, 30% Modulation
Range of Strength Display:
20 µV - 50 mV
General
Components:
4 Integrated Circuits
15 Transistors
12 Diodes, 7 LEDs
Mains Connection:
220/110 V
Fuses:
1 x T 630 mA
1 x T 315 mA
1 x T 100 mA
Dimensions:
435 x 56 x 250 mm
Weight:
~ 3.5 kg
Common Failures
Believe it or not - corrosion! Below is a common picture of an RT100 that has been in service for more than 15 years: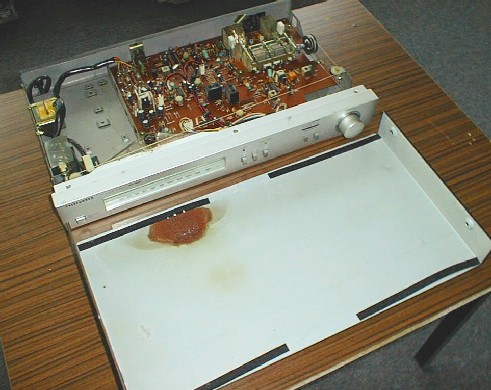 The most probable reason for this corrosion is the light bulb that illuminates the frequency display. There is almost no clearing above the lamp, which means that the cover becomes very hot at this place. All chemical reactions, including corrosion, increase their speed when the temperature increases...of course, the lamp (~12V) is also burned in most cases and needs a replacement. I usually use a standard E10-socketed bulb and solder the cables to the bulb. It may also be necessary to replace the ring of green transparent plastic foil that makes the illumination look greenish. However, it is also possible to leave it out; the illumination won't be green any more, but still looks good (as in the device shown above...).
Spare Part Numbers
(taken from Telefunken's 1981-1991 Service Handbook)
ICs, Transistors, Diodes
Transistor 3SK59GR
339 556 438
Misc. Electrical Parts
12V Lamp
339 560 306
Documents
Service Information
339 407 135
Available Documents
Related Documentation
---

Back to List
---
©2000 Alfred Arnold, alfred@ccac.rwth-aachen.de