My Telefunken Collection
---
RT200
Device Type
Digital Synthesizer Tuner
Start of Sale
1981
Original Price
DEM 799,-
General Description
The medium-sized tuner of the Silver Series includes a feature even not present in the larger RT300: a digital timer/clock, allowing to turn the tuner plus two other devices on and off at preselected times. A single point of time and a daily-repeating time may be programmed. The tuner is never really off: the power switch is in reality only a key that instructs the microprocessor to turn the relay for the outlets and the tuner section off; the display then switches to a 24-hour time display. Since there are only five digits available, the time display doesn't include the seconds.
In contrast to the RT300 and MT1, the other digital tuners in the Silver Line, the RT200 does not allow entering a frequeny via the numeric keys. Note that '16 program memory places' means 8*FM and 8*AM; you can't have more places in one range and less in the other!
Features
UKW/MW, 16 program memory places, manual and automatic station search, PLL tuning system, LED signal strength indicator, exact tuning indicator, digital timer clock, mono switch, AFC (switchable)
Connectors
AF Output (DIN and Cinch), Antenna (75 Ohms asymmetric 240 Ohms symmetric AM/FM), 2 switched outlets for timer operation
Technical Data
(taken from the user's manual and the service manual; I took the values from the service manual in case of contradictions)
FM Receiver
Wave Band:
87.5 - 108 MHz
Circuits:
11, 4 adjustable
Sensitivity:
0.8 µV / 2.6 µV Mono/Stereo
at 26 dB at 75 Ohms
1.6 µV / 5.2 µV Mono/Stereo
at 26 dB at 300 Ohms
Limit Range:
<1.0 µV for -3 dB at 75 Ohms
Intermediate Frequency:
10.7 MHz
IF Bandwidth:
160 kHz
Selection:
65 dB (2 signal method)
Mirror Selection:
>=70 dB
Capture Ratio:
<1 dB
Phase Suppression:
>55 dB
Carrier Signal Suppr.:
>70 dB
Frequency Response:
10 Hz - 16.0 kHz
Distortion Factor:
<0.5 % stereo
<0.3 % mono
at 1 kHz and 40 kHz deviation
Cross Talk Dampening:
>38 dB at 1 kHz
>30 dB at 12.5 kHz
Voltage Ratio:
>62 dB stereo (eff)
>65 dB mono
S/N Ratio:
>64 dB stereo
>67 dB mono
Range of Strength Display:
1 µV - 2 mV
Accuracy of Standards:
0 digit for station frequency in 50 kHz steps
AM Receiver
Wave Band:
MW 522 - 1611 kHz
Sensitivity:
9 µV at 600 kHz
(at 1 kHz 30% Modulation)
Circuits:
6, 2 adjustable
Intermediate Frequency:
450 kHz
IF Bandwidth:
4.8 kHz
Voltage Ratio:
36 dB at U = 1 mV,
Accuracy of Standards:
+/- 1 digit
Range of Strength Display:
8 µV - 5 mV
Frequency step:
9 kHz
General
Components:
13 Integrated Circuits
42 Transistors
43 Diodes, 20 LEDs
Mains Connection:
220 V
Fuses:
1 x T 2.5 A (primary)
1 x T 630 mA
1 x T 100 mA
Dimensions:
435 x 56 x 250 mm
Weight:
~ 4.5 kg
Common Failures
Leaked Accumulator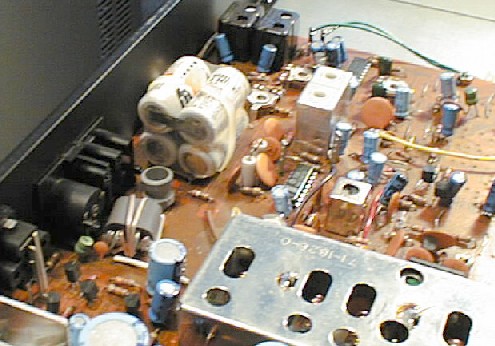 The RT200 contains a 4.8V NiCd accumulator pack. This is needed to keep the processor and the clock running while the device is disconnected from the mains supply (as I noted above, the microprocessor and its supply is still on when you turn the tuner off). During normal operation, the accumulator will be recharged. However, there is no protection against driving the accumulator into deep discharge when the tuner is disconnected from power for a longer period of time. Similar to the accumulators on older PC mainboards, this will (1) destroy the NiCas and (2) make them leak! If you see a pack with the white, crystal-looking electrolyte leaked out, immediately replace it, since the acid can also destroy traces on the PCB. The cells used in the pack have a non-standard size. Simply use a pack of four standard AA/R6 cells and connect it via some inches of wire to the PCB. Even the smallest AA cells available these days have four times the capacity of the original cells, and there is plenty of space in the case to install the new pack somewhere.
Out of Tune
The second next common failure is a synthesizer crystal out of tune. This becomes notable by the tuner's exact-tuning display: though the correct frequency for a certain station is set, the exact-tuning indicator does not 'show green'. Typically, it will claim a mistune towards lower frequencies. Since the tuning principle is a PLL synthesizer with a closed loop, aging of analog components like the varicaps or OpAmps is out of question, the synthesizer's reference clock must be wrong - just by a couple ppm, but enough...
You may try swapping the crystal, but since you will need to readjust the oscillator anyway, you may try to get the old one back to the correct frequency: the crystal is stabilized with two small ceramic capacitors. Their purpose is to assure a correct start and a stable oscillation, and they also have the property of slightly reducing the crystals resonance frequency. They are located between the crystals's contacts and ground. Try reducing their values (one of them is adjustable, but that is usually not enough) or unsolder them. For example, I had an RT200 that came 'back into tune' after I removed C272...
Linked to the out-of-tune phenomenon is the tuner's incaopability to reliably receive in stereo; an RT200 going mono in the music's rhythm is not uncommon ;-)
Failed +5V Supply
In case the tuner starts acting 'funny' or the display stays dark altogether, it's worth to check the +5V supply of the microprocessor. If it is more than half a volt too low, try to swap the regulating transistor for the +5V supply, T236. Seems this transistor is slightly underdimensioned and may get 'cooked' over time. I usually replace it with a BD135 plus a small heatsink.
Broken Processor
Another failure I had so far was a broken microprocessor (which is a complete project on its own, see below), but this is surely not a standard failure and more due to incompetent handling/repair of the previous owner...
Spare Part Numbers
(taken from Telefunken's 1981-1991 Service Handbook and the Service Manual)
ICs, Transistors, Diodes
IC201
IC TA7060 AP
339 575 227
IC202
IC HA12412
339 575 228
IC203
IC LB1450
339 575 278
IC204
IC LA1245
339 575 285
IC205
IC LB1426
339 575 279
IC206
IC TCA4500A
339 575 284
IC207
IC NJM4558D
339 575 087
IC208
IC MN6147
339 575 281
IC209
IC MN1455LF (IC209)
339 575 280
IC210
IC MC1741 (IC210)
339 575 123
IC211
IC MB74LS42 (IC211)
339 575 282
IC212
IC NJM7812A (IC212)
339 575 283
transistor BF451
339 556 289
transistor BC639
309 001 313
T204-207,209,224,228,
transistor 2SC1815Y
339 556 292
229,231,233,234,237,
238
T201
transistor 2SC380
339 556 052
T202
transistor 2SK212D
339 556 453
T203
transistor 2SK212C
339 556 454
T208-225,210-223,227,
transistor 2SA1015
339 556 216
230,232
T235
transistor 2SA1020
339 556 456
T236
transistor 2SD592
339 556 455
T101
transistor 3SK45B
339 556 456
T102,104
transistor 2SC535B
339 005 901
T103
transistor 2SC461B
339 005 925
D201-204,207,208
diode 1S446
309 327 925
D205,206
diode KV1225
339 529 322
D209-214,217,220-223,
diode 1S1555
339 529 017
304,305,501-504,506)
D215,216,218,224,225,
diode SR1K
339 529 101
229,230,303
D219
diode KB262
339 529 092
D226
diode DBA10B
339 529 368
D227
diode 05Z7,5X
339 529 317
D228
diode 05Z6,8Z
339 529 318
D301,302
diode 05Z16X
339 529 319
D101-104
diode 1SV53F2
339 529 314
D105
diode 1S2687C
339 529 315
D520,522,523
LED SR531D
339 529 323
D521
LED SG231D
339 529 320
D524-528
LED LN05202P
339 529 321
D503
LED SLP135B
339 529 324
rectifier
339 520 051
Filters
FL201,202
low-pass filter
339 368 014
CF201
ceramic filter 10.7MHz
339 367 116
CF202
ceramic filter 10.7MHz
339 368 016
CF204,205
ceramic filter
339 367 132
L201
coil 10.7MHz (L201)
339 347 039
L202
lowpass filter 195 kHz
339 367 117
L203
choke coil 2.2µH
339 348 655
L204
coil 3.3mH
339 347 045
choke coil 220µH
339 347 038
L206
antenna coil
339 347 139
L207
oscillator coil 100µH
339 347 138
L208
coil
339 367 114
L209
coil
339 367 115
L210,211
choke coil 39µH
339 347 040
symmetrical transformer
339 312 114
L101
coil
339 347 134
L102,104
coil
339 347 135
L105
coil
339 347 136
L108
oscillator coil
339 347 143
L106
coil
339 347 137
L107
coil
339 367 113
Misc. Electrical Parts
accumulator 4.8V
339 283 128
key
339 442 121
mains button w. rod
339 202 109
push button
339 222 132
push button
339 222 124
push button, 2 fold
339 222 125
push button, 3 fold
339 222 126
tuning knob
339 222 123
J201
antenna socket
309 670 928
J202
DIN socket, 5 poles
339 540 114
J203
cinch socket
339 540 146
FLU201
digital display
339 335 108
FU201
fuse T2.5A
309 627 916
FU202,203
fuse T400mA
339 572 004
FU204
fuse T100mA
339 570 023
R220,267
var. res. 10KOhm
339 508 651
R246,279,286
var. res. 20KOhm
339 508 653
R355
var. res. 5KOhm
339 502 015
RY201
relay
339 360 108
S201
push button assembly
339 442 119
XTAL201
crystal 4.5MHz
339 349 154
battery 4.8V/150mAh
339 168 006
FM mixer board
339 337 145
C101,109,112
trimmer
339 510 061
C124
trimmer
339 510 062
station buttons board, cpl.
339 337 137
tact switch w/o diode
339 442 020
tact switch w. diode
339 442 018
scanning board, cpl.
339 442 130
key assembly for it
339 442 120
mains socket
339 480 107
mains switch
339 442 121
mains transformer
339 312 112
mains cable
339 480 106
Misc. Mechanical Parts
cable binder
339 911 713
front plate, cpl.
339 132 128
side part f. front plate
339 232 125
frame f. tuning knob
339 222 145
button frame
339 222 144
buttons guiding, 8 fold
339 222 143
indicator window
339 272 128
display frame
339 337 142
push button holder
339 917 111
push button spring
339 917 110
housing, upper part
339 112 107
housing, rear panel
339 137 110
foot
339 062 112
Available Documents
Manual
Service Manual/Circuit Diagram
Goodies
Replacing a broken microprocessor
---

Back to List
---
©2002 Alfred Arnold, alfred@ccac.rwth-aachen.de