My Telefunken Collection
---
STM 1
Device Type
Main/Power Amplifier
Start of Sale
1980
General Description
THE STM 1 was the power amplifier in Telefunken's 1980 'state of the art' Hifi System. It practically contains the power amp section used in the TA 750, modified to fit into a 'slim-line' case. The power transistors in TO-3 case were replaced with types in plastic case, and the heatsink is flatter and wider and extends out ouf the housing at the rear side. The power amp board is the same, however a lot of components responsible for auxiliary supplies could be removed. The plastic frame with the main rectifier diodes and filter capacitors remained, but was 'laid flat' to make it fit.
The disadvantage of the STM 1 using the same circuitry as the TA 750 however gives it the same problems, but let's speak of that later...
like all components from this system, the STM 1 was also available as a non-rackmount version, which was named CM 20.
Features
Two speaker pairs attachable, headphone jack
Connectors
Input, Speaker Outputs, Headphone Output (all DIN)
Technical Data
(taken from the service manual)
Nominal Output Impedance:
4 Ohms
Nominal Output Power:
2 x 85 W RMS
Peak Output Power:
2 x 120 W
Distortion Factor:
< 0.1% @ 90 W / 1 kHz
Power Bandwidth:
< 5 Hz ... > 58 kHz for K <= 0.5%
Dampening Factor:
20 @ 40 Hz / -12.5 kHz
Nominal Input Voltage:
1 V
Nominal Input Impedance:
47 kOhm
Output Level at
18.5 V at speaker output (4 Ohms)
Nominal Output Power:
7.4 V at headphone (200 Ohms)
Channel Separation:
> 64 dB @ 1 kHz
> 47 dB @ 10 kHz
General
Semiconductors:
7 integrated circuits
14 transistors
12 diodes
21 LEDs
Power Supply:
220 / 110 V AC
Fuses:
Mains 220V = 1 x T 4 A
110V = 1 x T 6.3 A
Secondary 4 x T 4 A (Power Amps)
2 x T 200 mA
Dimensions:
482 x 80 x 390 mm (W x H x D)
Weight:
8.8 kg
Common Failures
Unfortunately, there are. First of all, the STM 1 is a power amp based on National Semiconductor's LM 391 chip, a chip that integrates all necessary active components except for the driver and power transistors. Unfortunately, this IC has to be supplied with the full main supply of +/- 39 volts, which puts it under high stress, and even the smallest failure will make it go up in smoke. I have ICs that have literally a crater in their housing! The main problem seems that one of the IC's pins is directly connected to the speaker output, which may swing beyond the Vcc levels. National Semiconductor proposed a protective circuit with a resistor and two clamping diodes, but Telefunken did not use it. The typical result is that everything blows up, and even if a driver transistor still looks good on a component tester, it is good practice to swap it anyway.
The other problem is located in the PCB's front right corner: a linear regulator made of a zener diode and a transistor. This regulator provides the +18V supply for the LED chains, power LED, and relay control. The transistor becomes fairly hot, and may fail after a few years of operation. Replacing the heatsink with a larger one might be wise...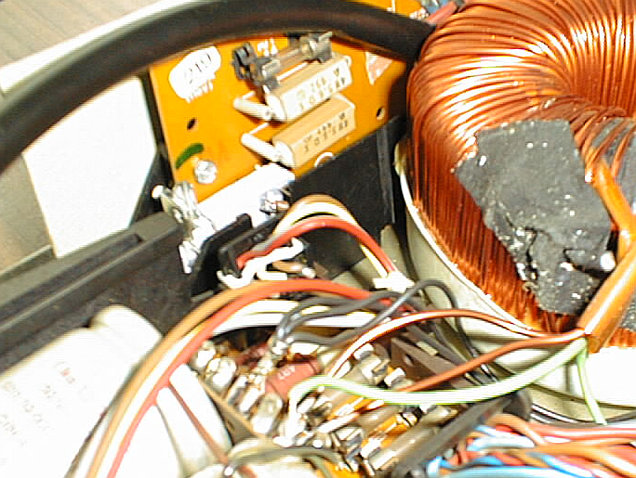 Furthermore, the STM 1 suffers from the same, simple failure as may other Telefunken devices in that era: a broken mains switch! Symptoms are that the device cannot be turned on or off any more, or a power switch button that doesn't move at all. The problem is the the 'ball pen' mechanics consist of a piece of metal moving in a plastic bearing, and the plastic wears out over time. Contrary to other devices, the switch is four-fold - The first contact pair switches directly, and the second pair bridges a pair of wire resistors a moment later. This way, the maximum in-rush current is limited, but it makes it hard to find a correct replacement. Seems however that a normal power switch without this current limiting trick works as well, like in this unit...
Spare Part Numbers
(taken from the service manual)
| | | Cabinet Parts |
| --- | --- | --- |
| Position | Order No. | Designation |
| 501 | 309 796 048 | cabinet, brown |
| | 309 796 050 | cabinet, champagner |
| 502 | 309 863 990 | frame chassis |
| 503 | 309 833 581 | front mask, brown / STM 1 |
| | 309 833 500 | front mask, champagner / STM 1 |
| | 309 833 596 | front mask, brown / CM 20 |
| | 309 833 597 | front mask, champagner / CM 20 |
| 504 | 309 833 582 | cover for VU-meter |
| 505 | 309 061 750 | cabinet foot |
| 506 | 309 921 921 | power switch rod with button |
| 507 | 309 809 954 | push button for speaker |
| 508 | 309 853 973 | handle for cabinet, brown / STM 1 |
| | 309 853 974 | handle for cabinet, champagner / STM 1 |
| | | Electrical Parts |
| Position | Order No. | Designation |
| BS 5409 | 309 369 964 | relay module |
| BS 5425 | 349 364 973 | AF-O/P module |
| BS 5523 | 309 310 135 | mains transformer |
| BS 5531 | 309 369 978 | power supply for power stage |
| BS 5734 | 349 395 025 | VU meter module |
| BS 5747 | 309 369 976 | loudspeaker switch module |
| BU 1 | 309 679 948 | input socket |
| BU 2 | 309 671 966 | headphone socket |
| FU 1 | 309 627 702 | fuse T 4 A |
| 510 | 309 630 024 | mains switch |
| 511 | 309 695 935 | power cord |
| D 1 | 309 327 022 | LED FLV 110 red |
| | 309 900 295 | diode holder, 1-fold |
| | | Relay Module |
| Position | Order No. | Designation |
| BS 5409 | 309 369 964 | relay module |
| C 701 | 309 414 768 | Al-electr. cap. 220 µF / 3 V |
| D 701 | 309 325 927 | diode 1 N 4148 |
| IC 701 | 309 368 206 | IC NE 555 N-H |
| T 701/702 | 309 001 956 | trnasistor BC 237 B |
| | | AF-O/P Module |
| Position | Order No. | Designation |
| BS 5425 | 349 364 973 | AF-O/P module |
| C 403/404 | 309 411 703 | Al-electr. cap. 22 µF / 6.3 V |
| C 421/422 | 309 410 733 | Al-electr. cap. 2.2 µF / 63 V |
| C 506 | 309 414 766 | Al-electr. cap. 1000 µF / 63 V |
| C 509 | 309 412 655 | Al-electr. cap. 47 µF / 50 V |
| C 510 | 309 412 679 | Al-electr. cap. 47 µF / 25 V |
| D 401-404 | 309 325 927 | diode 1 N 4148 |
| D 505/506 | 309 325 047 | diode BZY 85 C 18 |
| D 507-510 | 309 325 953 | diode 1 N 4003 |
| FU 501/502 | 309 627 913 | fuse T 500 mA |
| IC 401/402 | 309 368 174 | IC LM 391 N-90 |
| R 409/410 | 309 504 802 | variable resistor 2.5 kOhm 1 0.15 W |
| R 429/430 | 309 504 924 | variable resistor 2.5 kOhm 0 0.07 W |
| T 403/404 | 309 001 275 | transistor BD 230 |
| T 405/406 | 309 001 276 | transistor BD 231 |
| T 407/408 | 309 001 108 | transistor BC 307 B |
| T 409 | 309 001 812 | transistor BC 237 B |
| T 411/412 | 309 005 008 | transistor 2 SB 700 B |
| T 413/414 | 309 009 923 | transistor 2 SD 736 B |
| T 501 | 309 001 101 | transistor BD 167 |
| | | Power Supply for Power Stage |
| Position | Order No. | Designation |
| BS 5531 | 309 369 978 | power supply for power stage |
| C 2/3 | 309 414 784 | Al-electr. cap. 10000 µF / 50 V |
| D 1-4 | 309 327 008 | diode MR 751 |
| FU 401-404 | 309 627 702 | fuse T 4 A |
| 515 | 309 653 501 | fuse holder |
| | | VU-Meter Module |
| Position | Order No. | Designation |
| BS 5734 | 349 395 025 | VU meter module |
| C 801/803 | 309 410 655 | Al-electr. cap. 2.2 µF / 25 V |
| C 802/804 | 309 411 673 | Al-electr. cap. 22 µF / 16 V |
| D 801-804/ | 309 325 927 | diode 1 N 4148 |
| 821-824 | | |
| D 805-814/ | 309 327 053 | LED CQY 85 red |
| 825/834 | | |
| IC 801 | 339 335 855 | IC MC 1458 CP 1 |
| IC 802/804 | 309 368 238 | IC U 247 B 5 LED |
| IC 803/805 | 309 368 239 | IC U 237 B 5 LED |
| S 801 | 309 639 015 | slide switch |
| 516 | 309 900 292 | diode holder, 12-fold |
| | | Loudspeaker Switch Module |
| Position | Order No. | Designation |
| BS 5747 | 309 369 976 | loudspeaker switch module |
| 517 | 309 671 941 | loudspeaker socket, black |
| 518 | 309 671 942 | loudspeaker socket, green |
| 519 | 309 382 025 | push button assembly |
| 520 | 309 981 716 | reversing spring for push button assy |
| S 401/402 | 309 640 986 | chamber switch, 12 contacts |
| | 309 689 904 | IC socket, 16 contacts |
Available Documents
---

Back to List
---
©2002 Alfred Arnold, alfred@ccac.rwth-aachen.de